All posts tagged robot
7 Posts
Study for 2012 Robot Olympics
02/19/09
Two photos of Chico MacMurtrie's inflatable Birds sculpture at the Andrew Edlin Gallery in New York City. This is a beautiful piece, which consists of 16 inflatable robotic devices. I spent a few days programming this piece for Chico in the gallery, and we snapped these images on Chico's iPhone.
I'm very impressed with the direction of Chico's new work, which has been getting a good deal of press attention lately, too. It's nice to see Chico's work getting the attention I think it deserves.
If you are in the city, I recommend a trip to one of the pieces he has up now.
Now here's an interesting item…
This quicktime movie is made from the original film scans of the Terminator robot which we shot to make a hologram for the Terminator Boxed Set in 1992. We shot one of the life sized robot models from the movie on 35 mm film using a modified Mitchell 35mm camera, and had the film scanned to tape at GW Hannaway and Associates in Boulder, Colorado. Anyways, these are the film originals, cropped and scaled for the web.
If the movie doesn't display above, you can see the source movie here.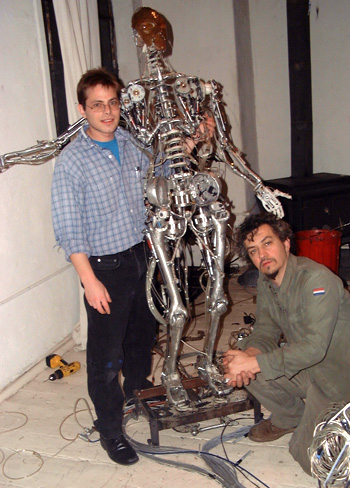 Speaking of robots, here's a fun picture of Chico Maurtrie and I from 2002. We were programming the sculpture in the picture, named Skelli, for a video shoot at Chico's studio in Brooklyn.
Chico's latest work, the Totemobile, was recently featured in Wired Magazine. Video below. Pretty darned cool.
There are more Amorphic Robot Works images here.
The Amorphic Robot Works Website is here.

From an Amorphic Robot Works show at Tacheles, in Berlin. 1996
Terminator Collection boxed set hologram I designed for Live Entertainment in 1992.
A quicktime of the robot film scans are here.