All posts in Art
237 Posts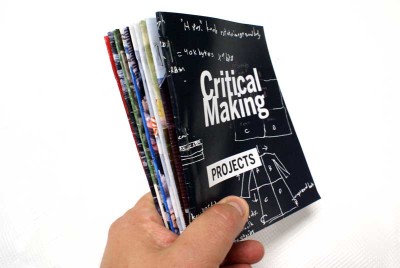 http://www.conceptlab.com/criticalmaking/
Big thanks to Garnet Hertz for including a piece of mine in his new Critical Making zine. I'm honored to be included with so many great artists in this publication.
A handmade book project by Garnet Hertz in the field of critical technical practice and critically-engaged maker culture. Critical making is defined by Ratto as exploring how hands-on productive work – making – can supplement and extend critical reflection on the relations between digital technologies and society. It also can be thought of as an appeal to makers to be critically engaged with culture, history and society.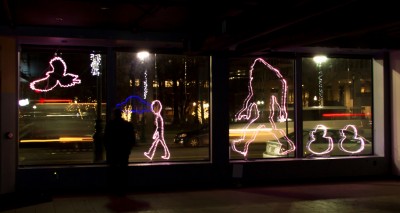 Go, 2012
LED lights, wire, electronics
Public Art Installation
Worcester, MA
Photo/Video: Nathaniel Wieselquist
#11.Art, Museu Nacional da República – Brasília, Brazil
18′ x 24′ x 2″
lights, wire, electronics
"Paste" is an experimental new sculpture which attempts to simulate a Photoshop selection in the real world. It is part of an ongoing series of sculptures exploring physicalization of the virtual experience.
http://goo.gl/maps/SwMlT
Thanks to Tom Leeser and Lea Rekow for including work by Gardner Post and myself in the Knowledges show in Los Angeles.
KNOWLEDGES at Mount Wilson Observatory brings together a constellation of more than thirty contemporary Los Angeles artists whose work extends from the nexus of ideas embodied by the Observatory itself: astronomy, scientific discovery, space exploration, optics, recorded observation, philosophical questions of cosmology, the history, aesthetics and ecology of the site and its influence upon the cultural landscape of Los Angeles. KNOWLEDGES engages the public in a unique opportunity to experience Mount Wilson Observatory through the lens of contemporary art.