All posts in Art
237 Posts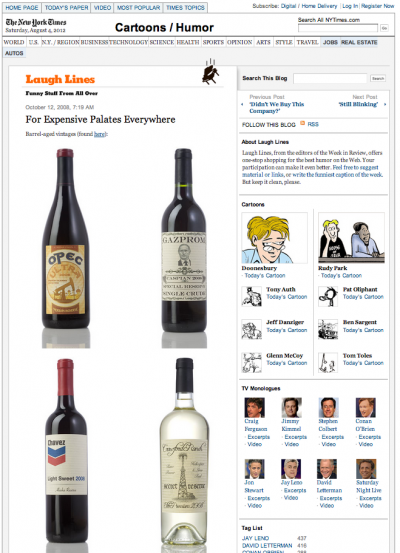 New York Times Blog, October 12, 2008
Celebrate the art of power with these elite distillates. Energy. Independence. Style.
New from Liquid Innovations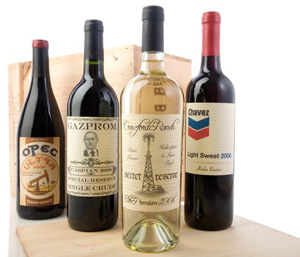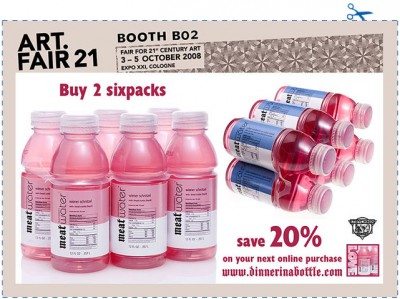 Buy 2 Six Packs, Save 20%!
MeatWater™ ART.FAIR 21 Six Pack Sales Event next week in Koln:
Strychnin Gallery, Booth B02
Friday, 3rd October until Sunday, 5th October 2008
Friday/Saturday 1pm – 9pm, Sunday 11am – 7pm
EXPO XXI, Gladbacher Wall 5, Cologne
Stop by, meet artist Till Krautkramer, and attend the press preview & Vernissage on October 2nd.
Contact: Iris Bitter, production@strychnin.com
Press accreditation: http://art-fair.de
Also this weekend, MeatWater™ is proud to sponsor Thom Kubli's world record attempt for
World's Longest Guitar Solo at the Figge von Rosen Galerie!
For more info: http://www.the-wsm.net
Want a Free MP3 Download? Learn more…
7th International Conference on Art and Technology, October 1st – 12th, 2008, Museu Nacional do Complexo Cultural da Republica, Brasilia, Brazil
I'll be exhibiting some new video work and presenting:
Open Source Art: Proposals for Hyper-Collaborative Artworks in a Connected World
The internet, low cost cell phones, cheap laptops, and readily available electronic parts now allow giant groups of people, dispersed across the planet, to team up and create massive events.
How can we harness the power of these technologies to create meaningful art pieces? What are the cultural barriers which need to be crossed in order to get millions of people to co-operate with each other to create something together? How can a diverse and massive group of people come to a consensus on what the piece should be, and who, if anyone, should claim ownership?
The open source movement has a proven record of success in the software field, and has been instrumental to helping the growth of the internet. In this presentation, I will discuss a proposal for applying open source methodology to create the worlds largest sculpture, the Very Large Display (VLD), and the human and technological challenges facing such a large scale collaborative project.
+++
I look forward to a fantastic symposium and exhibition. Thanks in to Tania Fraga and everyone at Universidade de Brasilia and Museu Nacional do Complexo Cultual da Republica for helping to put this event together.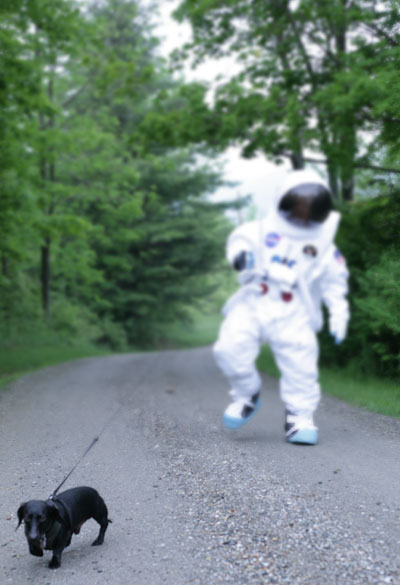 Part of an ongoing conversation with Gardner Post and Till Krautkraemer.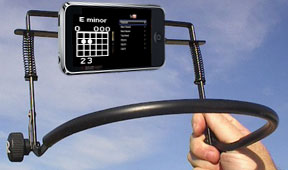 Study for hands free iMonica music assist integrated head up display device.
07/10/08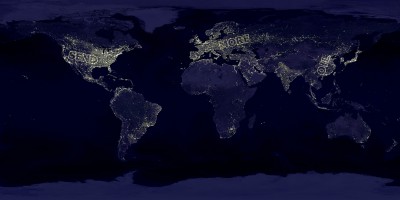 The Very Large Display is the inverse of the Very Large Array.
The Very Large Display (VLD) sends a strong message outbound to intelligent species in the universe.
It is a large scale open source wide area hyper-participatory circuit-bent synchronous gps light sculpture, designed as an outreach campaign to raise awareness.
See also: 7art
7/6/08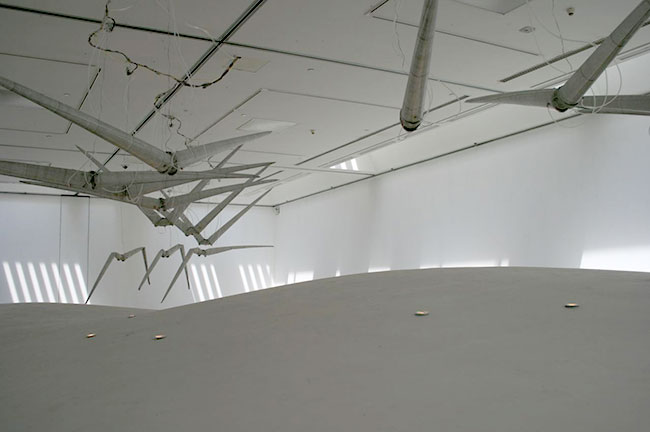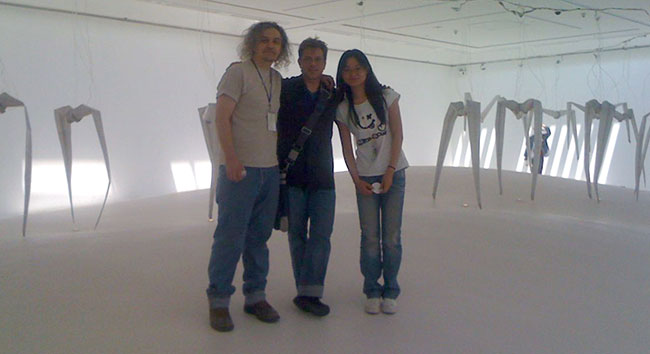 Special thanks to Chico MacMurtrie, Sven Travis of Parsons The New School of Design, the National Art Museum of China and the organizers of the Synthetic Times exhibition.
I was honored to participate in the exhibition, and delighted to meet so many incredible artists, including Verdensteatret, Kurt Hentschläger, f18 institute, Edwin van der Heide, Blendid, Herwig Weiser, and David Rokeby.
For more information on 16 Birds, see this page on the Amorphic website and this page from an earlier exhibition in New York City.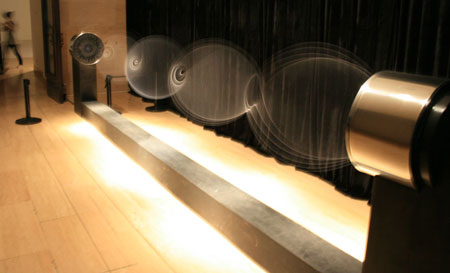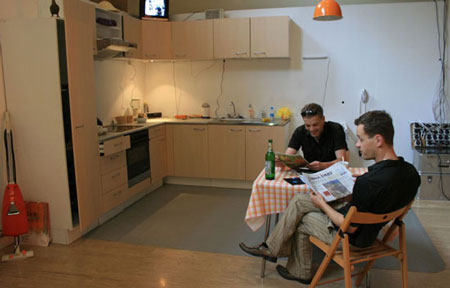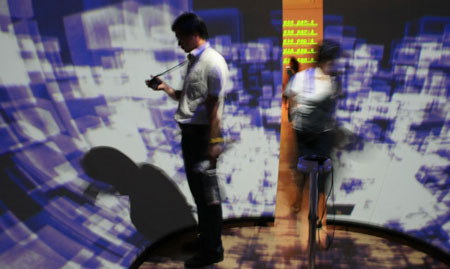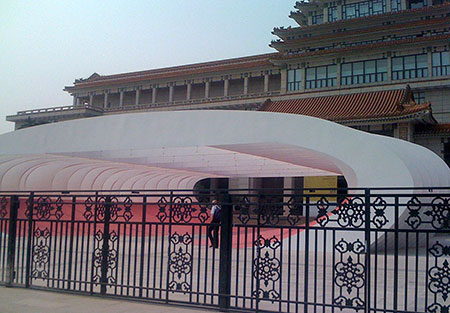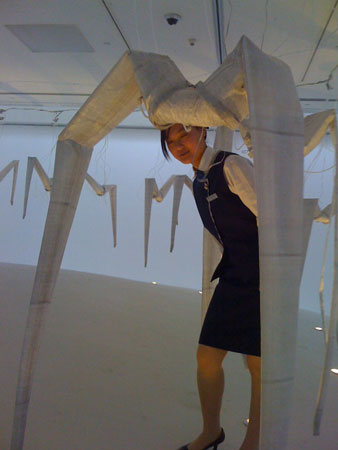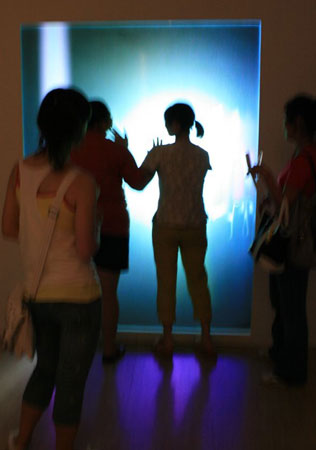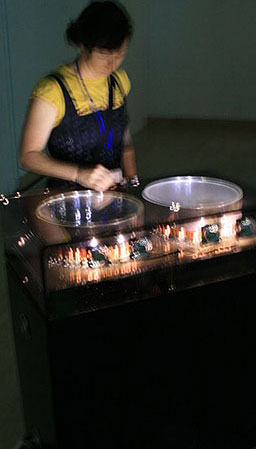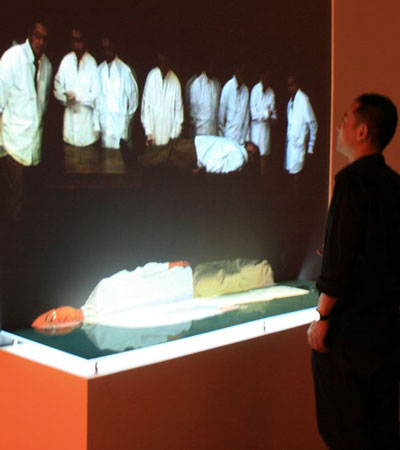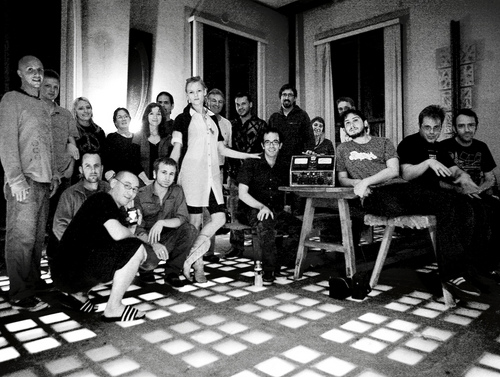 Photo credit: Arrow
I was going to write an article about this years Rhode Island Mind Meld, but I dont think I could do a better job than Peter Kirn's recent post on CreateDigitalMusic.com.
This was my second year as a participant, and I hope not my last.
It's such a pleasure to have a creative spacetime to work and communicate with so many talented artists. I get to meet and share ideas with some of today's top musicians and electronic artists. It is truly inspiring.
Special thanks to everyone involved, including:
Treanor Brothers Animation
Duncan Laurie
Steve Nalepa
Nick Bauta
Tony Flackett
Robotkid
Todd Thille
and of course
Peter Kirn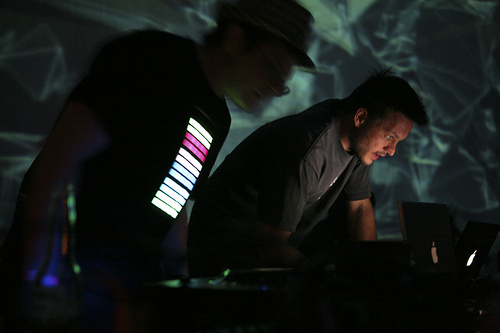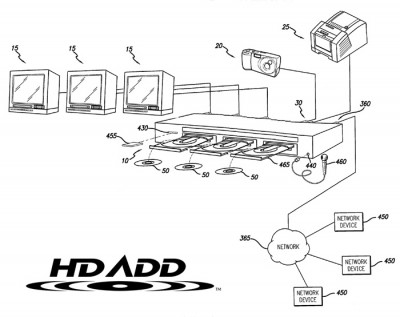 HDADD For temporary relief. Fast Acting High Efficiency Ultra Wide Definition 48:9 Format Episodic Attention Deficit Polylinear MultiNarrative Web Video Mashup with Digital THC Mastered Stereo Plus Center Third Eye Sound http://hdadd.com
Relinked at reader request.
11/03/07